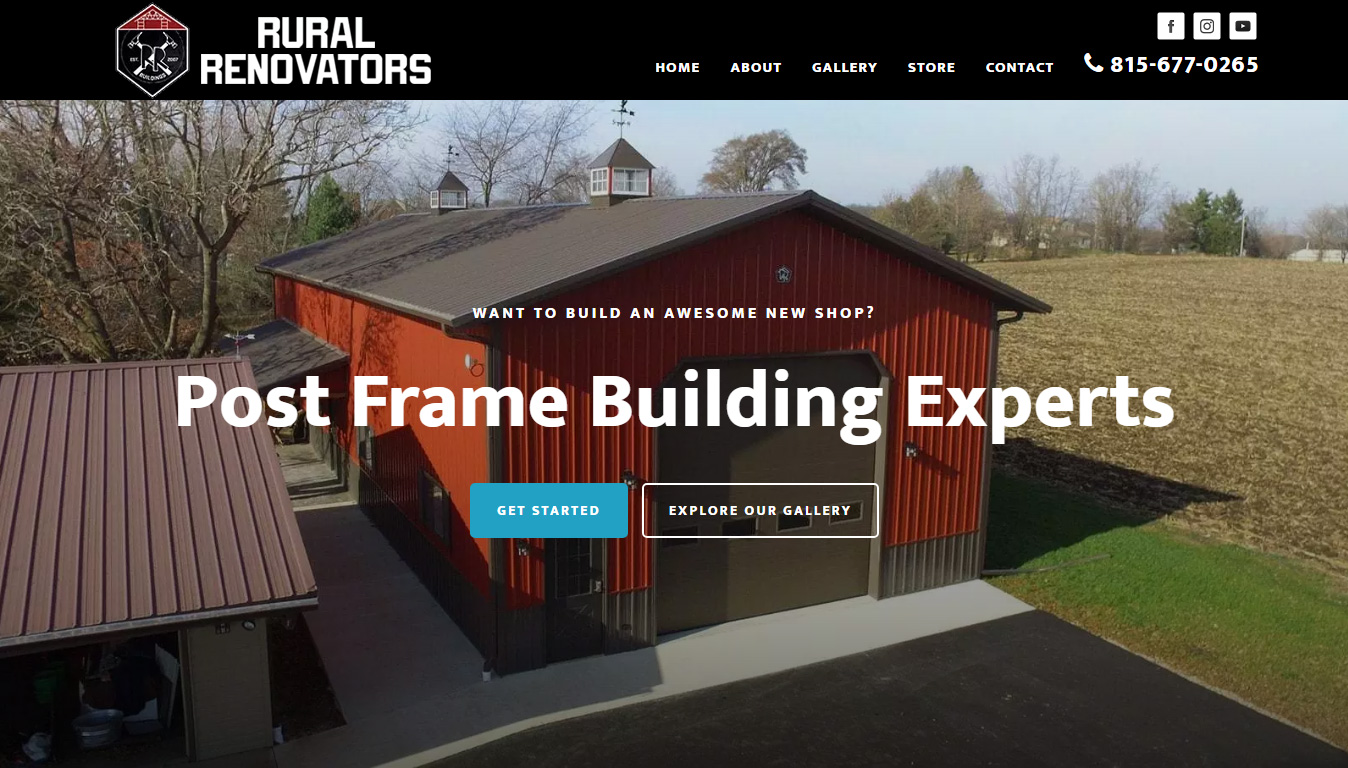 Kyle is a custom post-frame builder in Northern Illinois. His business has grown by leaps and bounds in the last few years.
As a result he has gotten very busy, and in his words…
"I was limited to my time and knowledge. Both being limited."
He didn't have a website at all.
But he was very active on social media. And his social accounts were growing very fast.
He told me…
"I would like to have a website, so I can have a consistent landing space for all of my social media endeavors."
Kyle had plenty of leads coming in for his post-frame buildings already. That isn't the main thing he was looking for.
What he was looking for was a professional "home base" for all of his social media endeavors to point to.
The challenge he was up against, is that he didn't have the time to commit to trying to develop or maintain the website himself.
So in a nutshell, this is what he was looking for:
Professional Website – To function as a home-base for all his social media endeavors
Not Time Consuming – When it comes to developing the site.
Hands-Off – As far as the daily upkeep and updates are concerned for the website.
So, we began the process…
He sent us some pictures, and the content for his pages, and we got it all put together for him.
We launched his new site without hiccup.
When I asked him later what he thought about how the entire process went.
This is what he said…
"It has been pretty much seamless."
Kyle runs a very streamlined and efficient crew. For him, time is of the essence.
He doesn't want to be bogged down trying to fix something on his website, or hunting down some answer to a problem online.
He went on to say…
"To this day I like that I do nothing unless I want to update content. In running a business I'm looking for less tasks to bog me down."
He loves the fact that our service gives him the ability to be "hands off" concerning his website.
I asked him what challenges he thinks the future holds for contractors, and how our new website service will help them with it.
This was his response,
"If you don't have a website you are way behind. And If you are managing your own website you are limiting yourself.
Find someone who is passionate about building and maintaining your website, and someone that is able and willing to keep up with any necessary changes and keep your site fresh and relevant."
When he was asked why he chose to reach out to us for help with his website, this is what he said…
"I trusted Martin and believed in him and his service"
"Time Time Time. Everyone needs more of it. And that's where Martin and his website service comes into play for us."
-Kyle Stumpenhorst
Get Started